Yellow fever is a viral disease caused by the bite of an infected mosquito.  Yellow fever typically occurs in sub-Saharan Africa and tropical South America.  Protection from yellow fever would include getting the yellow fever vaccine before you travel and carefully following personal protective measures against insect bites while traveling.
Vaccination will be RECOMMENDED for some areas of travel and REQUIRED for others.  Vaccination is required 10 days before entry into countries requiring yellow fever vaccination.  Yellow fever vaccine is a live vaccine and cannot be administered within 28 days of any other live vaccine.
You will be provided with an INTERNATIONAL CERTIFICATE of IMMUNIZATION (the yellow card) after immunization.
Yellow fever Vaccine Information Statement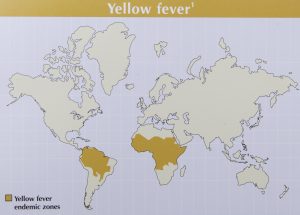 Maps are for illustrative purposes only.  For current information, please consult your travel medical specialist 6-8 weeks before your planned departure.