Polio is a viral disease that may affect the spinal cord causing muscle weakness and paralysis.  Travelers can get Polio from ingesting contaminated food or water due to poor sanitation or person-to-person contact with an infected person.  While many organizations have been working to eradicate this disease, polio can still be found in some countries in Africa, Asia, the Middle East and Eastern Europe.
Polio Vaccine Information Statement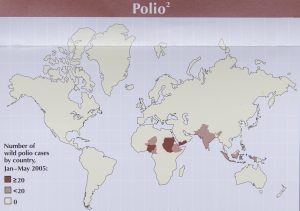 Maps are for illustrative purposes only.  For current information, please consult your travel medical specialist 6-8 weeks before your planned departure.