Japanese encephalitis is a viral infection caused by the bite of a particular species of mosquito.  This disease can be found in parts of Asia and the Indian subcontinent.  Risk is usually low for most travelers but if you are visiting rural areas and plan to spend a lot of time outdoors, you may want to consider vaccination.
Japanese Encephalitis Vaccine Information Statement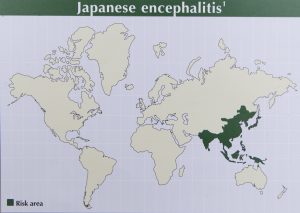 Maps are for illustrative purposes only.  For current information, please consult your travel medical specialist 6-8 weeks before your planned departure.